From a stock cabinet at a big box store to a semi-custom line offered by a kitchen design center to a custom cabinet from a exclusively custom cabinet manufacture, there are hundreds of cabinet companies competing for your business.  But where do you begin?  Kitchen remodels often leave homeowners in an I-don't-know-lets-flip-a-coin limbo.  Trucking around from kitchen center to kitchen center, getting several different designs along with several different prices and then deciding to price an off the shelf cabinet from your local box store and discover that's it's only 1/4 of the price.  All of this confusion isn't leading you to the culinary happy place you thought you would be in.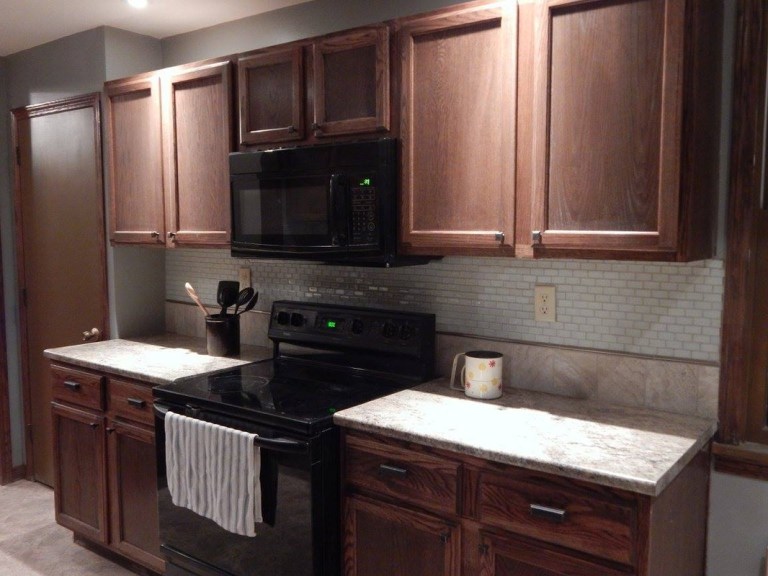 STOCK CABINETRY
The cheapest way to go is a stock cabinet from a big box store.  And when I describe cheap, I am describing price as well as construction.  Your typical off the shelf cabinet is comprised of a cheap grade of MDF (medium density fiberboard) with a melamine interior.  They start from12″ wide and go up in size in 3″ increments so filler pieces will be needed.
Advantages
Least expensive
Availability
Limitless finish options
Disadvantages
No options: glass doors, wood type, pull out shelves, etc
Sides of cabinet are MDF.  You need to purchase veneer or panels to finish the cabinetry yourself
Staining and applying polyurethane is not as easy at seems.
Cheap drawer construction:  Drawers are constructed of mdf that has been pinned together.
Lack of shelves: Wall cabinets only come with one shelf; Base cabinet comes with no shelf.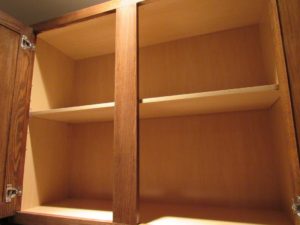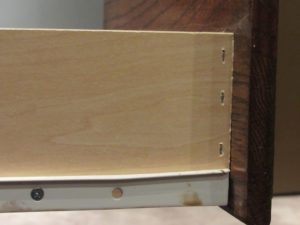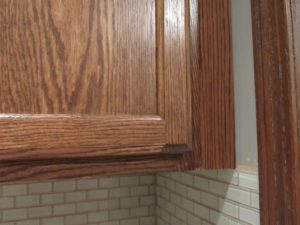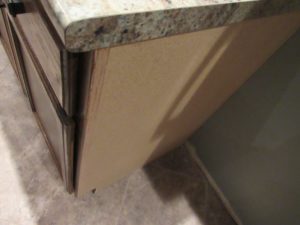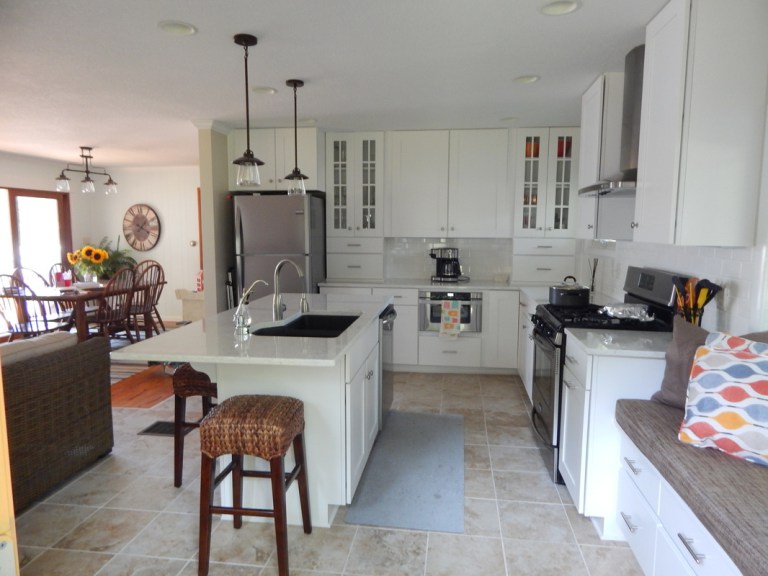 Semi-Custom-Cabinetry
Semi-custom cabinetry is probably on average 3 times the cost of a stock cabinet when comparing apples to apples.  However, if you ask me, it is worth every penny!  It is shipped assembled with a nice factory finish.  They are typically constructed with a high grade of MDF and may offer a plywood upgrade.
Advantages:
Several different door options
Most offer full extension, soft-close drawer guides
Some offer dovetailed drawers
Come in varying heights of 30″, 36″, 42″, and 48″
Wall cabinets come in 12″ or 15″ depths so you can stagger your cabinet heights
Several options to add such as pull out shelves, corbels, wine racks, crown molding, hoods, legs, feet, pull out trash bins, etc.
Some design centers have trained interior designers to aid in your layout and design.
Disadvantages
Some doors may only be available in certain finishes or wood types.
Every company has different standards.  Make a list of what options are important to you and only shop companies that offer those options
Heights only vary in 6″ increments so if you have an nonstandard ceiling height and want your cabinets to go to the ceiling you will have to adjust your design and use a wide crown molding.
Widths come in 3″ increments so filler pieces are still needed.
Some embellishments and add-on items may be more costly than a custom cabinet shop.
If something is misordered, it could take a few weeks to get the replacement.
Depending on where you are ordering, you could be responsible for measuring.  This includes window placement, doorways, electrical, and plumbing.
Depending on where you are ordering, the design could be left in your hands as well.  Selecting a door may be easy but it could become overwhelming when it comes to the details.
Custom Cabinetry
Generally custom cabinets will cost a little more money but sometimes can be very comparable to semi-custom.  There are endless options.  If you can dream it, they can build it (with some limitations).
However, anyone with a shop in their garage can call themselves a custom cabinet shop.  Although many great shops start off that way, they may not have room for a dust controlled paint room so their finishes may not be very reputable.  It is important to see a finish product before you order.  There are also many cabinet shops that cost a bit more than others and still don't offer soft close or dovetail drawers.  It's important to ask questions and compare quotes so you know exactly what you are paying for.
Advantages
Widths come in 1/8″ increments so no filler pieces are needed
A standard 30″ wall cabinet will have 2 adjustable shelves
Base cabinets come with a fixed shelf (can be modified with a full depth adjustable shelf or pull out shelves)
Tons of options: glass doors, feet, legs, aprons, spice racks, wine racks, trash cans, hoods, etc.
Most door styles come in your choice of wood and color (either paint or stain).
Measuring is left to the pros.
Work with a trained interior designer.
Any problems during installation are corrected immediately.
Can be less expensive than semi-custom
Disadvantages
Can be costly
4-8 week waiting period depending on the company and the time of year





Please follow and like us: